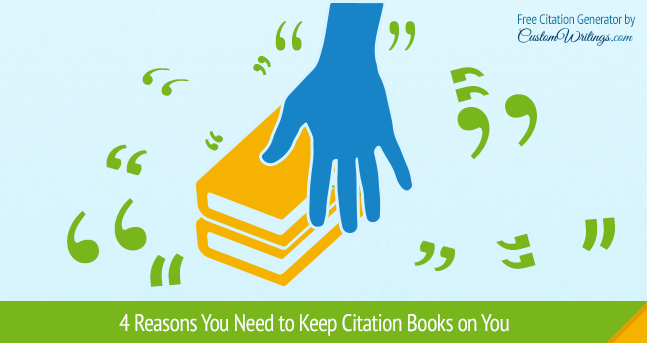 Regardless of a student's writing level, there's always room for improvement in style. Good writing skills are vital in college. You want to make yourself noticed, don't you? Well, then you might want to find a way to stand above the crowd and wow professors with your accurate, clean and insightful writing abilities.
Formatting and referencing mistakes are incredibly common these days. But then again, they're also quite difficult to master. The rules are different from style to style, so you might want to keep a citation book around all the time so that you can avoid mistakes as often as possible. It might seem weird having citation books with you all the time in the park, at the cinema, at home or even at a party. But you never know when they might come in handy.
Become a Real Expert
Knowing how to properly cite a source is vital in college and in life. Many professors emphasize this fact, but then again, only the smartest students will listen. Let's assume that you're applying for a job. You don't have experience in that field, but somehow because you know how to cite your sources that employer will choose you over someone else. Employers appreciate candidates that are detail-oriented. Having a citation book with you all the time will prepare you for unexpected scenarios. What if they ask you to write down a quote from a book, and then ask you to cite the source? What will you do then?
Avoid Your Professors' Wrath
Nobody likes an angry professor screaming and shouting because they told you a million times how to cite a paragraph from a book and you didn't listen. Why should you put up with their wrath when you can have citation books with you all the time in class and be prepared for anything? Teachers hate it when papers don't have proper bibliography. It is nerve-racking! In fact, many times students ask themselves "Why did I get a D if the content of my paper was good?" Oh really? If you failed to cite your sources properly, how can a teacher know that the content is yours and not copied from someone else? Plagiarism is a clear no-no in college, so you should think twice before adding bogus authors in your bibliography.
Woo Your Crush with Your Knowledge of Citation Styles
Do you have a crush on someone and have been dying to talk to them, but never had the opportunity? Here's a shot, so make sure you make the most of it. Use your knowledge of citation styles and help them with their paper too. They'll surely be wowed, and with a bit of luck they might even go out for coffee afterwards.
Build a Successful Career
We're taught in college that success in life can only be achieved if we strive to achieve more. The professors that said that are perfectly right. You can't make it if you're not organized. Citation books can help you a lot in your career. Positions like journalist, editor for a magazine, writer, and so on, require candidates to know everything there is to know about styles like APA, MLA and Chicago But it's tough to know it all by heart it might be a good idea to keep a citation book nearby.
If you're not happy with bringing citation books with you all the time everywhere you go, we have an easier option for you. Assuming that you're a tech addict and that you probably already have an iPad, laptop or smartphone, we advise you to use the Free Citation Generator. It is easy to use and extremely useful whenever you need to cite a source or add a bibliography for a paper.