The Constitution guarantees equal rights to education for every citizen, regardless of race or origin. While this sounds promising on paper, the reality is somewhat different. Black students make up a minority of all enrolled college attendees in the United States. We will try to understand why this is so, the reasons, and the ways to solve this problem in today's article.
Pressing African American Education Problems to Address
One of the most common problems in US education for black students is disparity. In 2021, the percentage of African Americans with master's degrees was only 9.5. This number is even more disheartening when considering that in the same year, 61.7% of whites earned graduate degrees.
Other problems for black college students in higher education include:
Poor college preparation resources. Many black students have poor resources to prepare for college. Often, they can't afford test prep courses and tutoring. In addition, the cost of standardized tests required for college admission can be prohibitive for many black students. This limits their choice of schools and reduces their chances of college application and admission.
High cost of college education. The tuition, fees, and textbooks are an enormous hurdle for African American students. Their cost forces many of them to rely on student loans to pay for a degree. Additionally, the annual increase in college tuition generally discourages potential learners from pursuing education.
Black underrepresentation. Black minority students continue to be underrepresented at many colleges and universities. This imbalance not only limits diversity on campuses but often leads to feelings of isolation for African American learners. It can also be difficult for scholars of color to find worthy mentors and role models among the faculty members.
Stigmatization. Black college students are often subject to stereotypical threats or stigmatization. They are afraid of confirming negative stereotypes about their racial or ethnic group. This circumstance cannot but create additional pressure on African American students. The psychological burden they bear negatively affects their academic performance and mental well-being, as they constantly feel the need to refute the stigma that haunts them.
Microaggressions and racial insensitivity. Such incidents include prejudicial remarks, stereotyping, and exclusionary behavior. These acts of discrimination create a hostile environment on campus and prevent black student success.
Lower graduation rates. Although the number of black students enrolling in college has increased in recent years, inequalities in graduation rates still persist. Only 40-plus percent of learners of color graduate from college in 5 years.
Unique Black Issues in Higher Education and Possible Solutions
It is crucial to not only recognize and discuss the black issues in higher education but also to seek solutions to them. This is vital to creating a more equitable educational system that fosters the success of African American students from elementary to higher education.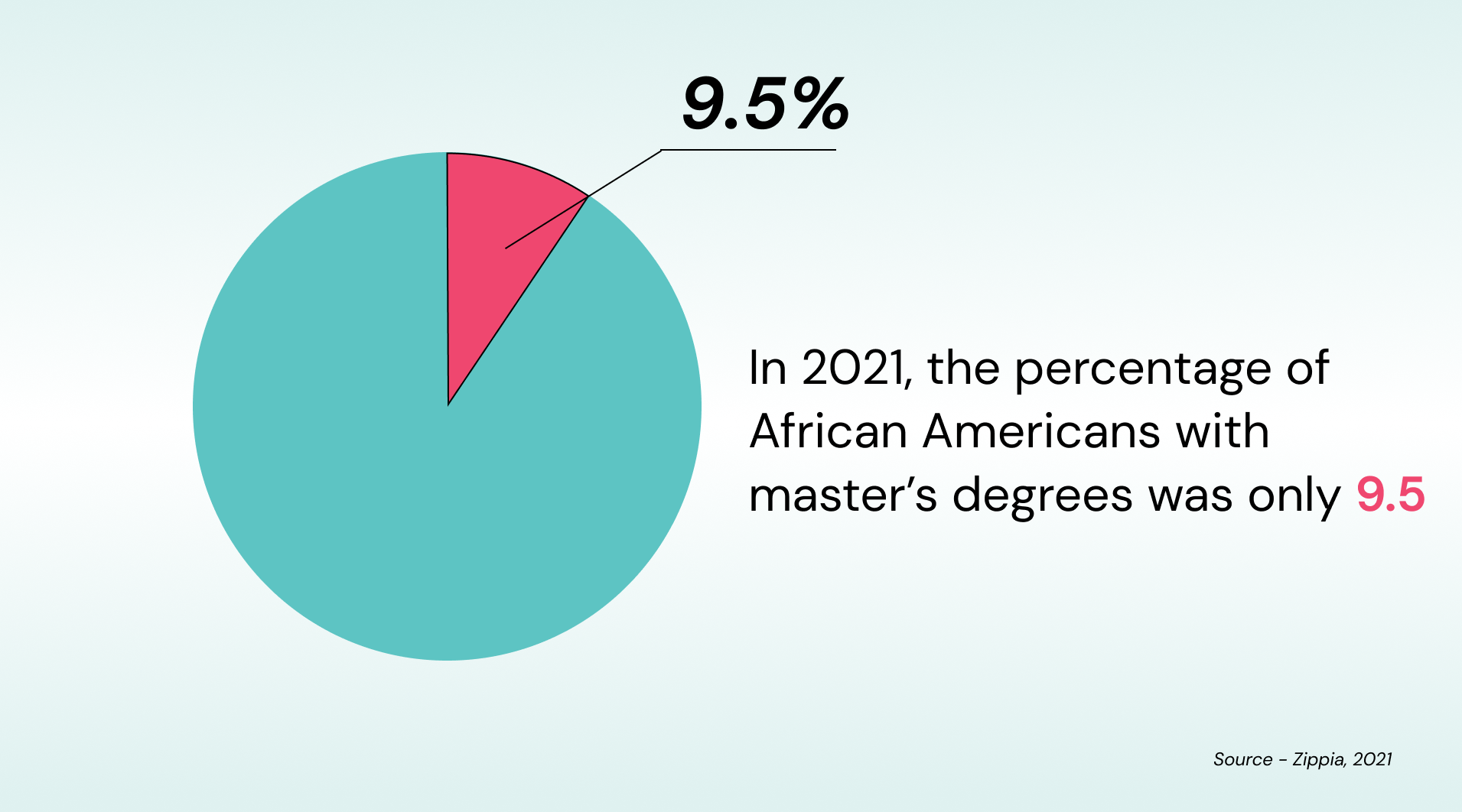 Blacks in higher education: How to help black students succeed
Supporting black student success in college requires a multifaceted approach. Schools should prioritize diversity and actively recruit and retain faculty and staff of color to provide African American students with decent role models and mentors. Vigilant academic support, such as tutoring, counseling, and mentoring programs, can help increase black students learning outcomes. In addition, fostering a welcoming campus culture that discourages microaggressions and promotes inclusivity is critical to the well-being of young adults of color. Financial aid policies and scholarships for black people that ease the burden of college tuition can further encourage school enrollment and completion. Finally, supporting policies and initiatives that address systemic inequalities in education is essential for long-term change.
What percent of African American go to college?
According to African American education statistics, in the fall of 2020, black students accounted for 12.5% of the total number of college enrollees. The minuscule percentages clearly illustrate the critical challenges for African American students discussed earlier in the article. Lacking adequate access to quality textbooks, qualified teachers, and often even the school itself, these young people are less likely to enroll in colleges and universities. Even with all of the above, the cost of education is often simply too high to pay for a black family.
Anchor: This data is a stark reminder of the importance of expanding opportunities for blacks in higher education.
What College Graduates the Most Black Students?
The top three colleges that graduate predominantly black students are the following:
Florida A&M University (FAMU)
FAMU is one of the Historically Black Colleges and Universities (HBCU). The school is renowned for its significant contributions to the African American community and consistent graduation of a high number of black college students. It offers a wide range of academic programs with a strong emphasis on engineering, business, law, pharmacy, nursing, journalism, and education.
Black college student ratio: 83%
Acceptance rate: Approximately 35%
Good colleges for black students: Howard University
Howard University ranks among the nation's top black colleges and universities in the country in terms of the number of black professionals trained within its walls in medicine, dentistry, pharmacy, engineering, nursing, architecture, religion, law, music, social work, and education. The institution is committed to academic excellence and is known for contributing to social justice and civil rights.
Black college student ratio: 86%
Acceptance rate: Around 53%
North Carolina A&T State University
North Carolina A&T State University is a prominent historically black university that graduates a significant number of black alumni annually. It places a strong emphasis on STEM education and research.
Black college student ratio: 80.1%
Acceptance rate: Approximately 57%
The Best Colleges for Black Students
The institutions below have earned a reputation as the best colleges for black students due to their high-quality education, strong support systems, and rich history of producing successful young people of color. To best prepare for applying to these schools, a student should familiarize themselves with the guide to college admissions of each of them.
Top colleges for African American students
Located in Atlanta, Georgia, the award-winning Spelman College was established in 1881. This private historically Black liberal arts school offers a wide range of undergraduate degrees in biology, psychology, political science, health sciences, English, and international studies. With an acceptance rate of approximately 28%, Spelman College is known for its strong commitment to empowering women of African American descent through education. The school maintains a student body with a significant 97.2% of black students.
Morehouse College is a private, historically Black, all-male liberal arts college situated in Atlanta, Georgia. It was founded in 1867. The college provides various undergraduate degrees in fields like civil rights and social justice. With an acceptance rate of approximately 65.2%, one of the best colleges for minorities boasts a high proportion of African American students – 98.4%.
Xavier University of Louisiana is a private college for black students based in New Orleans. Founded in 1925, the school is known for its strong programs in science, technology, engineering, and mathematics (STEM). It offers undergraduate and graduate degrees in the aforementioned and other notable fields. The university maintains an acceptance rate of an impressive 95%. The black college student ratio at the Xavier University of Louisiana is a notable 76%.
Hampton University is located in Hampton, Virginia. This is a private HBCU institution founded in 1868. The university offers a variety of bachelor's and master's degrees for African American students, with a particular focus on science and technology programs. Hampton University has an acceptance rate of approximately 45% and enrolls a notable 95% of black students.
Tuskegee University is one of the best colleges for African American students. It was established in 1881. It belongs to the HBCUs of Alabama. The university offers undergraduate and graduate degrees. Notably, Tuskegee University is the only historically black university with a fully accredited College of Veterinary Medicine that offers a doctoral degree. The school's acceptance rate is 34%. The lion's share of the student body is black students (84.9%).
Morgan State University is one of the prominent colleges for black students. It is renowned for its research programs and contributions to the Black Community. The school was founded in 1867. This is a public institution in Baltimore, Maryland. Morgan State University offers a variety of undergraduate and graduate degrees in liberal studies, business administration and management, psychology, civil engineering, and others. It has an acceptance rate of 87%. The black students attending the school account for 68.8% of the enrollees.
North Carolina Central University is a public institution in Durham, North Carolina. It is notable for its strong law and business programs. Established in 1910, the university provides undergraduate and graduate degrees. North Carolina Central University is not a highly selective school, with an acceptance rate of approximately 76%. The college is proud to enroll a substantial 80% of black students.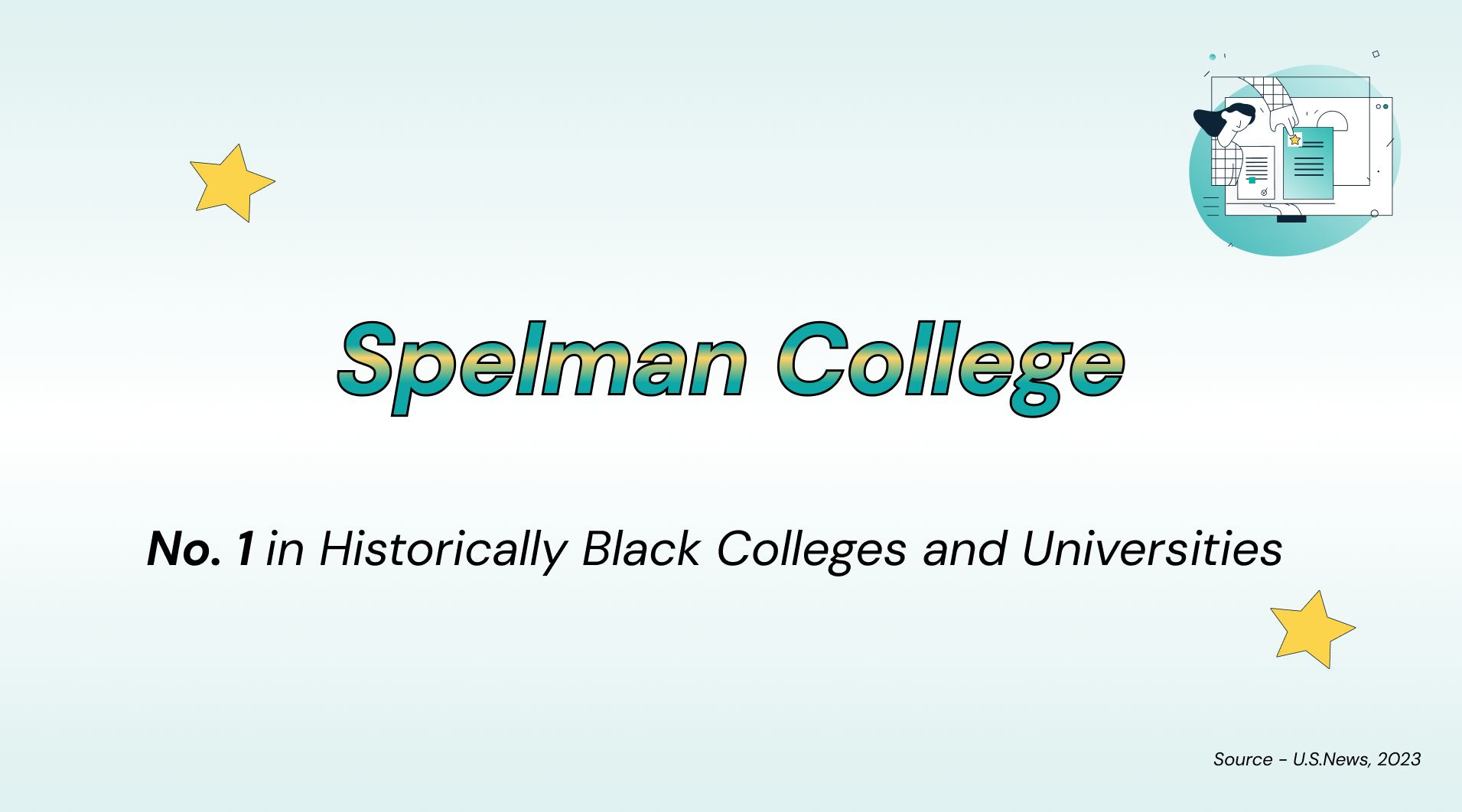 What Percentage of African American Graduate from College?
As mentioned earlier in the article, the percentage of black students who graduate from college is only 40.5%. Why is this figure so low? Firstly, most learners of color struggle with paying tuition, fees, and living expenses. According to the Department of Education, black college graduates have nearly $25,000 more in student loan debt than their white peers. In addition, limited access to scholarships and financial aid further hinders black students in higher education success.
Secondly, the academic preparedness of black and white learners varies due to differences in K-12 education. Research conducted by the National Assessment of Educational Progress shows that there are gaps between black and white students in reading and math. Often, African American students enter college with lower levels of academic readiness. This affects their ability to meet college requirements to graduate.
Thirdly, various social and cultural factors contribute to a hostile atmosphere inside the schools. They affect the mental health and well-being of black college students. Racial insensitivity, microaggressions, and discrimination create an environment that is not conducive to learning and reduces academic motivation.
President Joe Biden's administration is currently taking decisive steps to address the challenges of students of color in higher education. Only time will tell how successful their actions will be.