One of the most favored fall holidays, Black Friday, sorry, Thanksgiving, is approaching 🙂 A Freudian slip, as they say. While we all anxiously wait to take a bite out of a delicious turkey, every young person is looking out for Black Friday deals for college students after the celebration just as much. Knowing that you're already waiting for the juiciest deals to get the items you've been eyeing, we couldn't leave you to your own luck. So, get ready to read a super selection of the best deals on goods and services for Black Friday 2023.
The Coolest Holiday Sales 2023 Start On … When is Black Friday?
It's been a long time since the Black Friday phenomenon first appeared in the 1950s. However, over the years, this grand event has only become more popular. Every year, countless stores offer huge discounts on their products to everyone. Famous statistical agencies even claim Americans save an average of 24% on Black Friday.
Black Friday sales are closely connected with Thanksgiving. This means they officially begin the day after the holiday, which is always on the fourth Thursday of November. This year, it is November 24 for Thanksgiving and November 25 for Black Friday.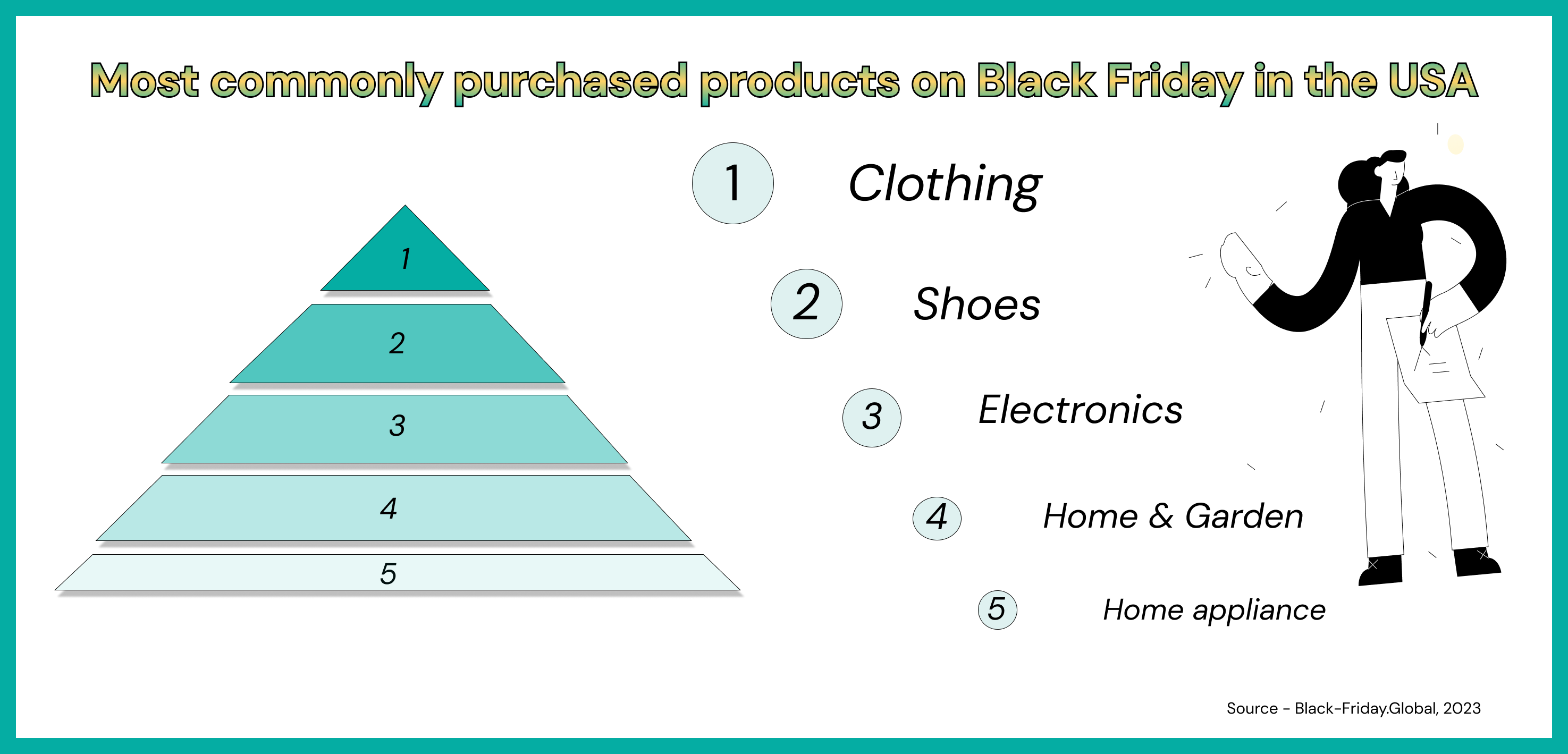 Nevertheless, sales often start earlier due to the tremendous demand and more than enough supply. These are the so-called early Black Friday sales. Many of them are ALREADY ACTIVE or will start on November 17.
We can't help but also mention everyone's favorite Cyber Monday, the day of the coolest Black Friday deals for college students. It is the next Monday after Black Friday. As a rule, on this day, many online merchants also offer to buy goods from them at discounted prices. Quite often, Cyber Monday turns into a real Cyber Week.
Here's a list of all of the most sought-after upcoming Black Friday sale dates:
Best Buy Early Sale: started October 30; Black Friday: launches November 17
Happy customers are given a discount of up to 50% on technology, household appliances, smart home devices, and other offers.
Walmart Early Sale: started November 8; Black Friday: launches November 22
Enjoy up to 65% off electronics, home and kitchen goods, sleepwear, holiday decor, and other essentials.
Home Depot Early Sale: started October 31; Black Friday: launches November 24
Lucky buyers can get up to 45% reduction on household goods, outdoor accessories, and other goods.
Target Early Sale: started October 29; Black Friday: launches November 20
Save up to 40% off kitchen items, TVs, soundbars, and streaming devices.
Costco Early Sale: started October 30; Black Friday: launches November 23
Get a more than 30% discount on a range of products, including electronics, home appliances, and more.
Newegg Early Sale: started November 1; Black Friday: launches November 17
Snag amazing 45% discounts on a range of computers, laptops, smartphones, gaming consoles, and more.
Amazon Black Friday: launches November 17
Enjoy up to 70% off electronics, home and kitchen goods, sleepwear, holiday decor, and other much-needed essentials.
GameStop Black Friday: launches November 17
Hurry and catch up to 75% off games, accessories, collectibles, and clothing.
Kohl's Black Friday: launches November 19
Save up to 70% off beauty products, jewelry, toys, kitchen essentials, and other stuff.
Macy's Black Friday: launches November 19
Don't miss the 50% to 75% discounts on designer clothing and fine jewelry.
The Best Black Friday Deals for Students: What You Should Pay Attention To
So, let's get down to business. We will present you with the best goods and services you could buy with nice discounts on Black Friday. Given the very nature of discounts, we know that you expect to see a selection of products that you would normally find a little out of your reach or too expensive. So, here comes the meaty part of our article, ladies and gentlemen — Black Friday student deals!
Apple products.

Ah, the precious bitten apple. Who doesn't want to get their hands on a gadget with a famous logo? So, the Apple deals. We have to disappoint you here a bit. In Apple stores, Black Friday discounts are usually far from pleasing to the eye. However, mega shopping giants like Amazon, Best Buy, and Walmart always cut prices on popular Apple products during Black Friday and Cyber Monday sales. For example, during this holiday sale, you can save $250 on an Apple MacBook Air at Amazon or $60 on Apple AirPods with a charging case (2nd generation) at Walmart.

Game consoles

can help you enjoy the holiday weekend and get a break from annoying relatives, let's be honest. You can buy them at reasonable prices if you take advantage of the Black Friday deals for college students. Whatever your gamer's heart desires, be it a PS5, Xbox, or Nintendo Switch, we're sure a tasty discount is awaiting you on Amazon. For instance, you can get a PS5 Slim Spider-Man 2 Bundle here just for $479.

PCs, laptops, and smartphones.

If you've been putting off buying a new laptop, tablet, or phone until better times, it's quite possible that they've already rolled around. You can easily find discounts on all the much-needed devices at Dell, Lenovo, and HP stores or on Amazon or Walmart online.

Clothing.

All self-respecting branded clothing stores keep up with other retailers and offer tempting discounts on their products as well. We recommend visiting such well-known stores as Kohl's and Macy's or trying your luck on Amazon for online shopping. We are sure the cherished sneakers and brand purses are already waiting for you. Hello, Black Friday deals for college students!

Home and beauty appliances.

New vacuum cleaner or new hair straightener? This Black Friday, you don't have to choose and buy both. (WARNING: Excessive shopping can be bad for your wallet.) No kidding, you can get Dyson Corrale hair straighteners for 58% off at Best Buy.
Saving Money on Black Friday: How to Do It Right
Although you are being told from every corner that it is on Black Friday that you will be lucky enough to save a penny and buy your dream goods at a discount, we advise you to get a grip and be smart about your shopping. Use our suggestions to make the most of this year's holiday sales.
Using student discounts on Black Friday: Is it worth it?
Being a student is not easy. As soon as you get your student ID, you have to deal with long hours of intense studying. BUT! This card also gives you access to some great discounts! This can be especially useful during sales seasons like Black Friday and Cyber Week. The basic rules you need to know about student discounts and Black Friday deals:
а) As a rule of thumb, you can't get a student discount on already cut-priced goods on Black Friday.
b) However, some stores allow you to combine a student discount with an existing one. You should definitely ask about this opportunity when shopping.
c) Always have your student ID with you.
Say "YES" to budgeting for Black Friday
Despite the inviting banners with the sacred red numbers with percentages, don't lose your cool. Put budgeting for Black Friday first. Take a measured approach and make your spending plan on your gift list. Do not give in to impulse purchases, even if they may tempt you with huge price cuts. And always, always buy only what you put on your list, i.e., the things you really need.
It's also a smart move to monitor stores and online platforms with the products you're interested in a couple of weeks before the grand sale starts. This way, you'll get the best Black Friday deals for college students for sure.
Another great idea is to take advantage of the Amazon Prime Student program for online shopping.
Online vs. in-store shopping: Where are the best Black Friday student deals
To take advantage of a great opportunity to buy the product you are most interested in at a lower price, you can go two different ways: online shopping and visiting stores in person. Both options have their pros and cons and a long list of Black Friday deals for college students.
Black Friday online shopping
Pros

Cons

Convenience.

When you shop online, you can get offers anywhere and anytime without standing in line or traveling.

Delivery delays.

When buying online, you need to be ready for potential delivery delays.

Wider selection.

You can browse many stores at the same time from the comfort of your home. This makes it easy to compare Black Friday deals for college students.

Lack of physical interaction.

You will be able to touch the purchase only upon receipt if you choose online shopping.

No crowds.

When you buy from the web, you bypass all the hustle and bustle.

Technical failures.

Because of the large volume of Black Friday orders, there may be website crashes or payment problems.
In-store shopping on Black Friday
Pros

Cons

Tactile experience.

When you shop in a brick-and-mortar store, you can actually interact with the products, checking quality and function.

Crowds and lines.

When looking for Black Friday deals for students in person, be ready for long lines and crowded stores during grand sales.

Immediate satisfaction.

Visiting a regular shop, you make a purchase and immediately receive the goods in your hands without waiting for shipment.

Limited stock outs.

It is possible for extra-popular goods to be sold out quickly and cause you disappointment.

Communication with people.

If you like the bustling atmosphere of Black Friday, you can only feel it to the fullest in person.

Travel and parking.

When buying in person, you will need to travel and look for a free parking space, which is not an easy task during the holidays.
Tips for Smart Black Friday Shopping
To make the best of your holiday shopping this year and get the most out of it, here are some simple and effective tips on how to avoid overspending on Black Friday:
Plan ahead.

Learn as much as you can about the offers and create a shopping list well in advance. You should know exactly what you need and where to find it. This way, you will not make impulsive purchases and focus on the most necessary things without spending too much.

Make a budget and stick to it.

Black Friday sales are so tempting, yet overspending can cause you some serious money problems. Setting limits on what you might pay helps keep your finances in check.

Compare prices.

Don't ever accept the first offer you get. Compare prices at different retailers or online platforms to make sure you're having the best possible deal. You can use price comparison tools or apps to make this process easier.

Keep an eye out for early deals.

Many retailers post Black Friday deals in advance. Keep an eye out for pre-Black Friday sales or early discounts to catch the best Black Friday deals for college students before the rush begins.

Check the return policy and warranty.

Before making a purchase, read the store's return policy and warranty information. This way, you can return or exchange the product if necessary.

Always ask for student discounts.

Make the most of your student status. Don't forget to ask if the store has discounts for those who study hard to get a degree, and "May the odds be ever in your favor!"
FAQ
How can students save money on Black Friday?
You can save money on Black Friday if you keep track of the items you really need and plan a budget for these purchases in advance. In addition, you should use online tools and apps to compare prices.
Can student discounts be combined with Black Friday deals?
As a rule, sellers do not allow combining student discounts with those of Black Friday. However, as with any rule, there are also some nice exceptions.
What are the best Black Friday deals for college students?
Typically, the best Black Friday deals for college students are offered by major shopping platforms such as Amazon, Walmart, and Best Buy. There, you can buy anything from clothes to gadgets at lower prices.