Hey, guys! The two greatest sales dates of the year are upcoming! I can't tell you how excited I am to talk to you about Black Friday strategies and some eCommerce marketing tips! These are my big areas of interest and uni studying, and I want to share some of my knowledge with you before the festive season. So, what are Black Friday and Cyber Monday marketing strategies, and why do these days hold so much weight to retail and eCommerce?
Understanding Black Friday and Cyber Monday
Even if you think you totally get the meaning of the Black Friday Vs Cyber Monday deals, you most likely do not. Both events are global things for a good reason. Here are a few key ideas you need to understand in marketing to understand the global fuss around these days:
Black Friday and Cyber Monday are more than "sell-it-all-out" PR campaigns.

The common perception of these events usually has two vectors. It's either about the possibility for customers to go for a cost-effective shopping or for businesses to raise customer engagement. Both perspectives are correct, but there are so many more purposes for business than that.

Three whales of BFCM: studying the customer, experimenting, and securing the revenue.

First, both retail and eCommerce campaigns reveal a huge deal of insights into the customer's psychology, needs, and buying behavior. Second, Black Monday marketing strategies are often carte blanches for experimenting with everything the stocks did not have enough resources for during the year. On Black Monday, any experiments will most likely be successful for the general leap in sales.

Black Friday online vs. Cyber Monday online strategies.

Black Monday is a way to meet the psychological and natural life-cycle needs of customers. The end of Thanksgiving means that is right about the time to start thinking about Christmas! Starting the festive season sales were and still are only natural. Cyber Monday, instead, is a way to celebrate the comfort of purchasing from home and to extend the window of shopping opportunities.

Are they slightly manipulative? Probably, yes. Are they still beneficial for all parties? Definitely, yes.

For instance, Black Friday sales often promote exclusive 24-hour discounts and deals. Some people buy the products they don't even need just because they are on sale. However, such little manipulations are actually two-sided benefits. In any scenario, the whole country gets a week of shopping joy, compatible only with Christmas coming earlier.
Key Statistics and Trends
In 2023, it is expected that about 78% of consumers will bet on the large shopping for the upcoming festive season. Moreover, the sale rates from 2022 are pretty encouraging for businesses, as mobile shopping grew by 3.5% last year, with a total of $ 6.2 billion in sales. What does that mean?
First, it means that global sales strategies tend to slip out more and more from retail to mobile purchases. At the same time, they come back to retail but not as a purchase place, but for picking up the orders (Buy Online and Pick Up In Store (BOPIS) strategy). I mean, it is not a secret for anyone for more than 15 years that online shopping trends are getting stronger. However, there are a few trends you need to know about in this total eCommerce euphoria:
If you don't have a well-developed sales funnel, with all digital advertising and selling platforms included, you don't have a deal.

To maximize sales with Cyber Monday strategies, the business must have a strong social media presence, hot discount strategies, and a website totally prepared for mobile browsing.

Be transparent in your communication.

Both Cyber Monday strategies and Black Friday marketing ideas ended up with us now having almost a whole month of limit-free shopping instead of one day. As the whole thing grows, the businesses risk losing the customer's loyalty for the attempts to sell as much as possible. Instead, the brands that check their tone of voice in media presence, and do not utilize bold advertising, are the most likely to succeed.

Bet for the small indulgent treats.

It is not news that we live in political and economic instability these days. Therefore, the modern Black Friday marketing strategy must not be about large purchases. The customers won't buy it, in all possible senses of the phrase. Instead, the businesses try to pick the most affordable items that are likely to trigger the customer's desire for small guilty pleasures.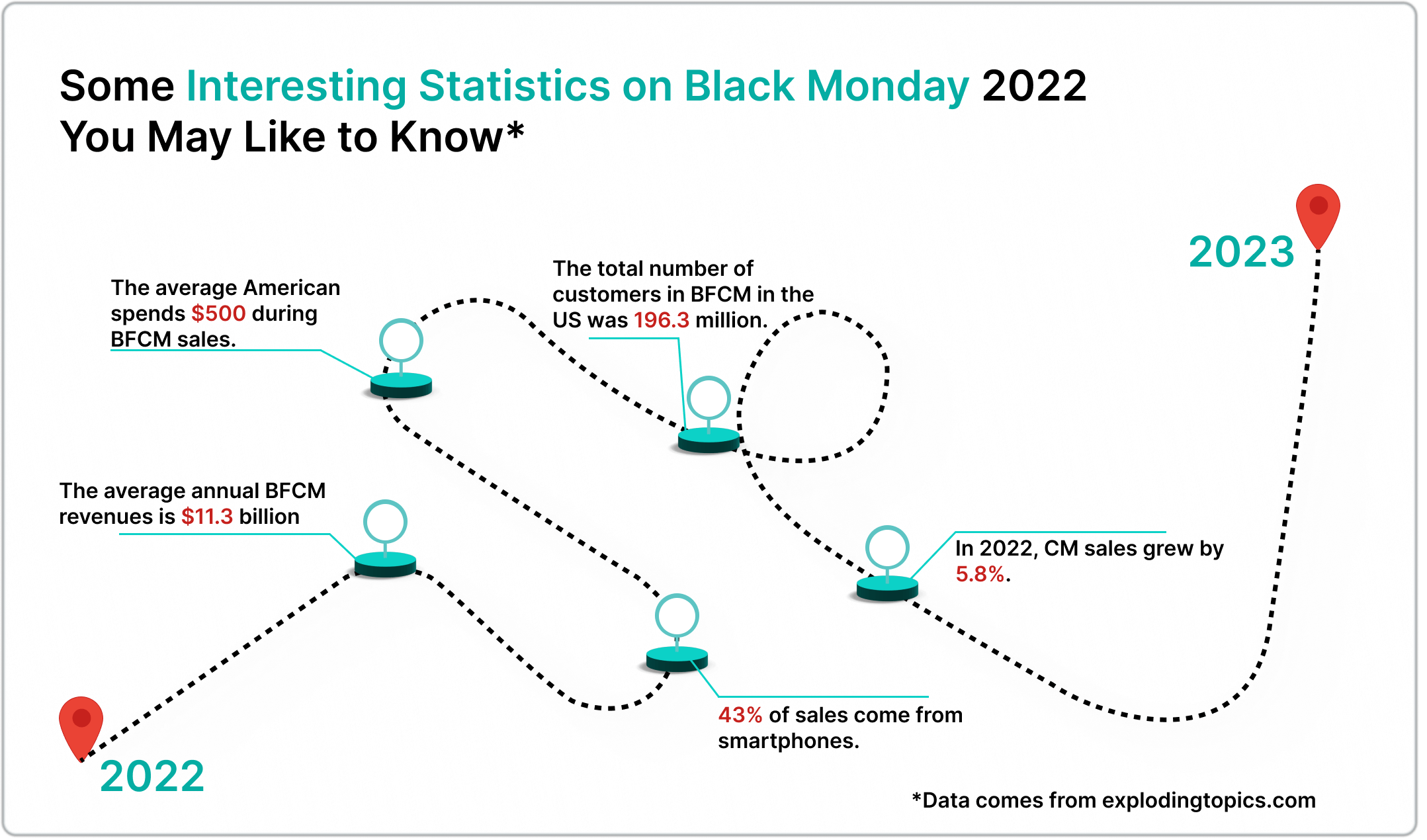 Analyzing past BFCM trends for future success
The 2023 festive season is on its way, but we can see what worked last year and will most likely stay along in this season as well. So, here are a few still valid and the most effective marketing trends for BFCM from the previous years:
Early planning and communication.

Both Black Friday and Cyber Monday are not one-day offers anymore. More often, retailers and online businesses call it a BKCM week. With a more extended time, customers have more time for wise shopping and hence need more information from you. According to a Bankrate survey, 12% of consumers start planning purchases in September, 26% in October, and 37% in November.

Omnichannel strategies and experiential marketing.

Although brick-and-mortar retail does not lead the trends, it still has an impact on sales. In recent years there has been a growing trend for experiential marketing to encourage customers to interact with brands. For example, do you remember the recent fuss around the Barbie movie Vs Oppenheimer? Do you remember social media masks and the full-scale cosplay near each cinema? Whatever pop-up experience is under the budget, brands must use it to make the retail more engaging.
Essential Marketing Tips for BFCM. Leveraging Social Media for BFCM Campaigns
Do you want to have an eye on the most successful Black Friday campaigns and some marketing tips? Because I have some more for you and I am eager to share it!
The rise of mobile shopping
Yep, here we go again with social media campaigns and the importance of a brand's digital presence. However, this strategy is not limited by the adaptation of your website for the mobile version. As mobile shopping is crucial for Black Friday and Cyber Monday sales, here are a few effective mobile marketing strategies to try:
a) Think about using chatbots as a communication channel. 1.5 billion people around the world use them to grab information about the items, and the number is expected to grow by 2027.
b) Elaborate on AI-driven personalized recommendations. Yes, the usage of customer's personal data is a sensitive topic. Yet, there are some customers who are willing to share their buying behavior for some discounts and bonuses. This data will give you many insights about the behavior of other customers as well.
c) Do you sell something large and solid? Try augmented reality. If you sell something like clothing, adapting VR reality may be the task of a great difference. However, for items like furniture, the program development process should be less costly, so it's worth a try. The most famous example of such marketing is IKEA's VR game.
Creative discount and promotion ideas
Okay, but what about real sales strategies? How do businesses nowadays manage to deliver good discounts and yet not lose the profit? I have some most common answers to that, too.
Add some interesting details to the typical discounts.

By typical discounts, I mean something like "30% off for each second item" or "purchase the entire set of products at a price lower than the combined cost of each individual item.". For example, instead of proposing pre-chosen sets of items, you can enable a free mix-and-match option for your customers.

Use lifestyle discounts wisely.

There are many groups of people that are socially vulnerable or typically applicable to social discounts for a particular profession. But brands can pick up a group that is most relatable to their product. Sports brands can consider supporting athletes, and the cosmetics industry can think about pet owners as a way to disapprove of cosmetic product testing on animals.
The role of email marketing in BFCM
One more effective and relevant strategy for the 2023 year is email marketing for BFCM. Yes, regardless of how unrealistic it may sound, it is! As a customer, I can say that the tone you set in your official emails is a crucial part of your marketing. This rule applies more to your current customers than to the prospective ones.
Yes, people usually do not read spam promo letters via email. However, they do read the confirmation letters after their purchases, if the deal details are sent this way.
Black Friday best practices retailers request the email in some cases instead of a physical receipt. If your customer reads your letter ones, with full attention, they will be more likely to read the next one, too.
Preparing Your eCommerce for the Festive Rush
Instead of summing up, I propose we come up with a checklist on how to prepare an eCommerce for the upcoming festive rush. Let's keep it simple and include only the most easy-achievable tips to consider during and after the shopping rush:
Invest in mobile optimization.

Make sure your websites and managers are ready to deal with large purchase volumes.

Keep your calls to action clear.

Do not switch between complicated and confusing CTA's. Choose the most effective one and stick to it.

Prominent discounts display.

Clearly display discounts and promotions on the homepage for easy visibility.

Chatbots for initial interaction and live chat support for complicated cases.

Implement live chat support to assist customers in real time with their queries.

Order confirmation emails.

Send order confirmation emails with a thank-you message and details on the purchased items.

Prepare feedback surveys.

Use them in exchange for the BFCM discounts.
Regardless of whether you have your own business or a start-up idea, or you are just interested in marketing, I hope this article will help!