Between video conferences and online assignments, it can be difficult to navigate the world of distance learning. Zoom is becoming an increasingly popular platform for managing digital classrooms, but if you're not familiar with it already — don't worry!  
In this post, we'll review the essential apps every student needs to make their Zoom experience even easier. 
Whether you're a new student just getting started or an advanced learner looking to get more out of your virtual class sessions, these great apps for college students will help you streamline and organize your workflow to maximize productivity in any digital environment. 
The Contemporary Importance of Zoom in Obtaining an Education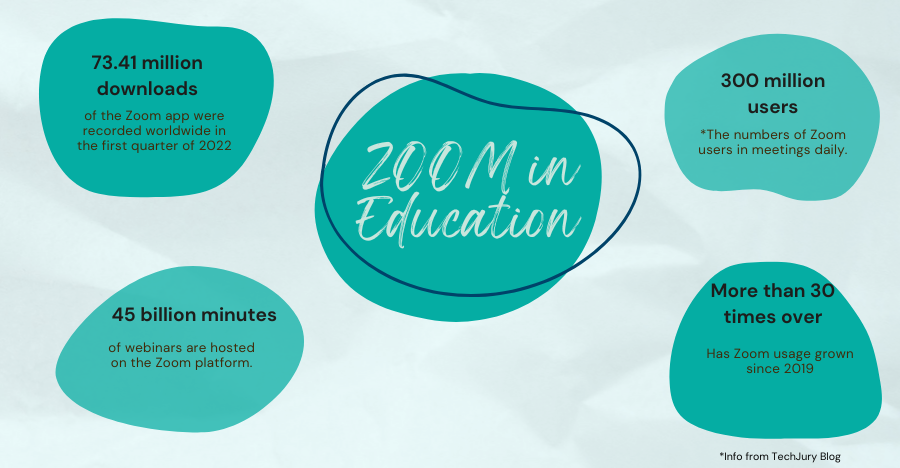 Zoom has become an integral part of online education in the present day. With a sharp uptick in remote schooling due to the current pandemic, Zoom has provided an easy-to-use and secure platform for students and educators to connect, collaborate on projects, and access curriculum materials remotely.
The platform offers features like screen sharing, virtual whiteboarding, and breakout rooms which help enhance learning experiences. 
Additionally, its intuitive user interface makes it easy for teachers to set up virtual classes with minimal effort while providing high-quality audio and video streaming capabilities. It allows them to host lectures as if they were in a real classroom setting without any technical glitches or disruptions.
Furthermore, Zoom tools also help foster greater engagement between teachers and students by allowing them to answer questions during class and offer feedback instantly through its chat functionality. 
Reports suggest that there have been over 300 million daily meeting participants on Zoom since April 2020, with higher education accounting for nearly 11% of all video conferencing usage worldwide. 
Therefore, it's clear that the platform is becoming increasingly popular among educational institutions as well as individuals who are embracing remote learning solutions due to the global pandemic situation.
Most Useful Zoom Apps for Students
If you're using Zoom for education, here are some of the most useful apps that every student should have access to:
As one of the best Zoom apps for education, the Zoom Whiteboard allows students and teachers to collaborate in real time during a Zoom lecture. In addition, this interactive tool for online learning enables users to draw, write, and share ideas, making it an excellent app for online learning and group work.
This popular app for the classroom can be integrated with Zoom for fun and interactive quizzes, games, and challenges. Kahoot! helps make Zoom lessons more engaging and enjoyable by offering fun Zoom activities for students and promoting friendly competition.
Miro is an online collaborative whiteboard platform that integrates with Zoom, providing an interactive space for brainstorming, planning, and visualizing ideas. It's a useful app for college students working on group projects or participating in virtual learning activities.
This interactive Zoom tool allows teachers to create polls, quizzes, and word clouds during a Zoom lecture. By integrating Mentimeter with Zoom, educators can encourage students to participate, provide feedback, and gauge understanding in real time.
As one of the most useful apps for college students, Wooclap is an engaging platform that transforms smartphones and computers into outstanding virtual learning tools for enjoyable and effective learning. With the Wooclap app for Zoom, instructors can effortlessly access and share interactive questions with students. Students can respond to these questions directly within Zoom Meetings, minimizing distractions and helping them focus, practice, and retain the material.
Loom is a video messaging tool that allows students and teachers to record and share video messages. It's an excellent resource for educators who want to provide supplementary materials or feedback for Zoom lectures and lessons.
This interactive teaching and learning platform integrates with Zoom for education, offering interactive tools for virtual meetings, quizzes, and multimedia presentations. Nearpod makes it easy for educators to deliver engaging content and monitor student progress during online classes.
Another valuable app for college students, Pear Deck, works seamlessly with Zoom to create interactive presentations with real-time feedback. It's perfect for keeping students engaged and promoting active participation during online classes.
Otter.ai is a helpful app for college students that automatically transcribes Zoom meetings and lectures. In addition, it's a great resource for students who want to review and revisit information from their online classes.
One of Zoom's built-in features, Breakout Rooms, enables educators to divide students into smaller groups for discussions, group work, or collaborative activities. This function helps facilitate more focused interactions and personalized learning during online classes, making it one of the most essential apps for college students. 
 The Digital Certificates app for Zoom, developed by Valamis, provides a streamlined way to create, issue, and manage digital certificates for course completion, webinars, and training sessions conducted through Zoom. This app is a valuable resource for educators, trainers, and event organizers who want to recognize and reward participants' achievements in a professional and efficient manner. 
Edpuzzle is a versatile app for online learning that lets educators create interactive video lessons by adding questions, audio, and notes to existing videos. Integrated with Zoom, it helps make online lectures more engaging and ensures that students stay attentive and involved.
LangLion Zoom app is an integration of the LangLion platform with the popular video conferencing tool, Zoom. By incorporating Zoom into LangLion's comprehensive management system, language schools can enjoy seamless communication and coordination between teachers, students, and administrators. The LangLion Zoom app allows users to schedule, join, and manage online classes directly from the LangLion platform.
Bottom Line
In conjunction with the most popular apps for college students, Zoom can be a powerful tool for online learning. From interactive video lessons to collaboration platforms and real-time feedback tools, there are plenty of resources that can help make virtual education more engaging and effective. College students should use these apps to enhance their online learning experiences. 
Using the right apps allows them to get more out of their online classes and stay engaged and motivated! So, next time you log into Zoom, be sure to explore the top apps for college students mentioned above. They can help make virtual education more engaging and effective!