Hi everyone! My name is Patric, and I want to talk about something every college student mulls over: what is the best laptop for college? If you study in college, you know that a laptop is an absolute must-have. It's not just some fancy accessory – a laptop is an essential tool for various tasks, including note-taking, completing assignments, conducting research, and staying connected with classmates and professors. Without a solid laptop, college life would be one big struggle. I had no clue how tough things would become without a functioning laptop until I had a major issue with mine.
The situation that happened to me is every student's nightmare. It was a typical chaotic morning in my house when one of my kids accidentally spilled a cup of cocoa all over my laptop! I couldn't do anything to help my device: it died, and I was absolutely heartbroken. However, once I chilled out, I started looking at the bright side of this situation. What is it if not an excellent opportunity to get myself the best laptop for college ever?
I approached choosing a laptop with great seriousness, almost like it was a matter of life and death. I started off by researching technical characteristics impacting the laptop's performance, including CPU, RAM, storage type, graphics card, and operating system.
Additionally, I considered battery life, display quality, webcam, and touchpad. Now that I know almost everything about laptops, I want to tell you about the best laptops for students. Keep reading if you're curious to learn more about laptops and find the perfect one for your college journey!
Best Windows Laptops for College Students
Most of you will likely consider Windows laptops first. It's no wonder because a Windows laptop is compatible with a ton of software and apps, so you can find whatever you need without any hassle. However, before purchasing a Windows laptop, consider the pros and cons of this popular OC.
Pros:
Compatibility and versatility. Are you looking for good laptops for college students? Or do you need a laptop for gaming? It doesn't matter because Windows laptops are highly compatible with a wide range of software and applications, so you can easily find and use the programs you need.
Customization. It might not seem very important to college students, but the best student laptops should be customizable. You can personalize your laptop for your specific needs by adding shortcuts for your favorite apps or organizing your files. Just by customizing your laptop, you can make education more enjoyable and engaging.
Familiarity. It's always easier to work with something you are familiar with. A familiar OS is what makes Windows devices good laptops for college students. Choosing a Windows laptop saves valuable time because you don't need to learn a new system. Moreover, a large community of Windows users can support and guide those who use Windows laptops for college education.
Cons:
Updates. Not that updates are necessarily bad, but if you are a Windows user, you know what I mean! Updates on Windows laptops can be disruptive, which is very annoying. Imagine you are in the middle of an important project when you receive a notification for updates. That's definitely not what you expect from the best laptop for college.
Bloatware and security. When it comes to using Windows laptops, bloatware and security issues are significant concerns that can negatively impact your device's performance. Bloatware, which refers to unnecessary software and apps, can be preloaded on a Windows laptop, occupying storage space and slowing down your device. Furthermore, Windows laptops may be susceptible to malware and viruses, so you need to be vigilant and use reliable security software.
Best laptop brands for Windows Users
Now that you know about the pros and cons of Windows devices, do you still think that a Windows laptop is the best computer for college? Then you might be wondering what are the best Windows laptop brands. Several laptop brands stand out for their quality and performance, including Dell, Asus, HP, Lenovo, and Acer. Dell laptops are known for their durability and reliability, while HP devices offer a good balance of performance, design, and affordability. ASUS laptops are particularly suitable for gaming due to their powerful CPU and good graphics. Lenovo laptops are famous for their solid build quality and various options for different purposes. However, Acer is definitely my favorite laptop brand.
Acer offers the best laptops for students for several reasons. Acer laptops are affordable, which is good news for students who are tight on budget.
Despite their affordable price, an Acer laptop provides decent performance for everyday tasks and even gaming. Additionally, solid construction and high-quality materials contribute to its durability. Acer laptops are also known for decent battery life and sleek designs. These characteristics make Acer offerings the best laptops for college. Nevertheless, you should keep in mind that the laptop brand is not the only thing you need to consider when choosing the best laptop for you.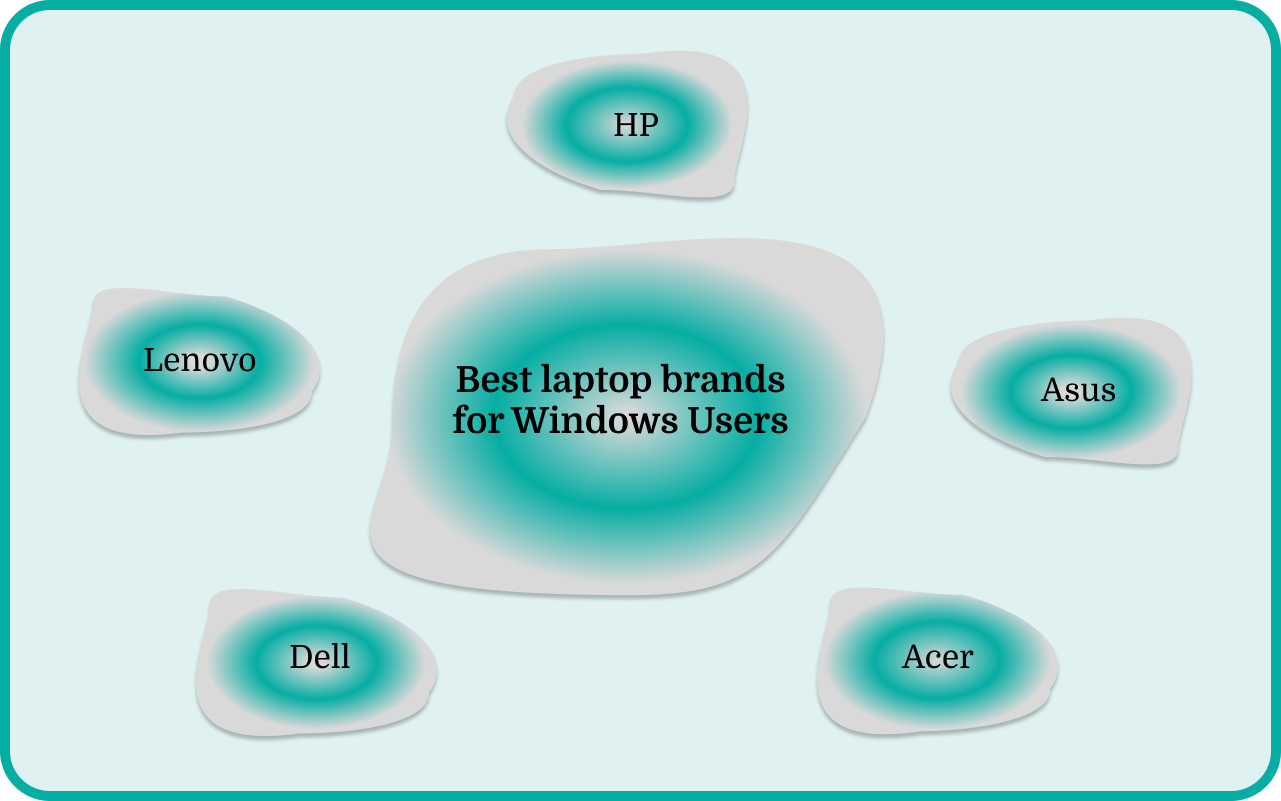 MacOS vs Windows: Best MacBook for College
If you feel that the cons of using Windows outweigh the pros, choosing a MacBook is your best option. Security concerns might be an important reason to choose a Macbook since MacOS is known for its great security features. MacOS is also considered more reliable than Windows, with fewer crashes and system errors. However, MacBooks might be too expensive if you are looking for a budget laptop. Another reason why MacBook might not be the best option for you is limited software availability and customization. Moreover, Windows is a preferable platform for gaming, making it a better choice for game lovers. You should carefully consider the pros and cons of both operating systems to choose the best laptop for you.
Are MacBooks good computers for college?
Even if you already know that you prefer MacOS to Windows, you might be unsure whether the MacBook Air or MacBook Pro is better suited for educational purposes. The Macbook Air is a portable and lightweight model, suitable for those who need to carry their laptop around the campus. It has a long battery life and is powerful enough for everyday tasks like note-taking or web browsing. In contrast, the MacBook Pro is suitable for those with demanding needs, such as coding. Although larger and heavier, it features a powerful CPU and ample RAM. Both models can be the best college laptops, but you should carefully consider your demands to choose the best for you.
Best Laptops for Codding: Key Factors to Consider
When it comes to finding the best laptops for coding, you should keep a few things in mind. First off, performance is key. For running complicated programming tasks, your laptop must have great CPU performance and plenty of RAM. Moreover, a perfect laptop for coding must have good battery life to last through the long coding marathons and be easy to carry around if you need to bounce between different locations. Don't forget about a comfy keyboard, touchpad, and a high-resolution display.
A 1080p display will not just enhance your visual experience – it will make you feel like a coding pro! Remember these factors, and you'll find a perfect laptop to boost your coder productivity.
Best Laptops for Computer Science Students: Do They Need the Same Characteristics as Computers for Coding?
Devices for coding and laptops for computer science students have similar purposes, so you might have assumed they must have similar characteristics. However, a laptop for a computer science student must cover a broader range of needs for a computer science program. Although the best student laptop also needs a powerful CPU and plenty of RAM, such a laptop must be compatible with all the specific software and tools you'll be using in your computer science studies. The best laptop for computer science students must also be portable, versatile, and powerful. Remember, the best laptops for college students are not necessarily expensive but rather offer a good balance between price, performance, and durability.
Size Matters: Small Laptops Are Great
Small laptops can be a great option for students to bring their devices to class or study sessions easily. Due to this, some of you might consider purchasing a Chromebook, which is unsuitable for coding marathons but can be the best option for students. You can carry it in a Chromebook case and take it everywhere you go, making them the best laptops for school and a viable option for college. Chromebooks are lightweight and affordable but may have limited processing power. Although getting a Chromebook for gaming purposes is not recommended, they successfully utilize web applications and cloud gaming services. Since they are practical and affordable, Chromebooks can fit your student life like a glove.
The Newer, the Better: Best laptops 2023
Now that we know what exactly students need, we can choose the best laptop computers. A laptop for college students does not necessarily need amazing processor performance, but it should be portable, durable, and have a long battery life. To many students, affordability will also be a significant benefit. Let's not forget about customer support: laptops for college students must have reliable customer support and a warranty that covers potential issues or repairs. So here is my list of the best laptops for college students available for purchase in 2023.
Best laptops for college students in 2023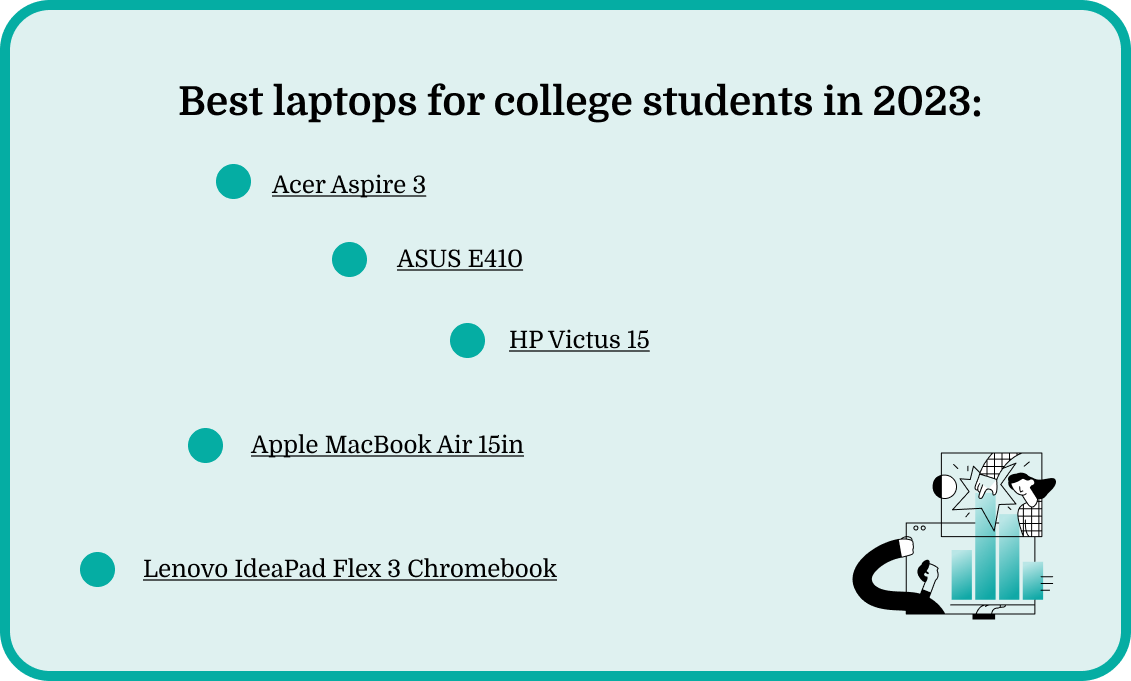 Acer Aspire 3: Budget laptop
If you are looking for an affordable option, Acer Aspire 3 is a great choice for you. Despite its price, this laptop has decent CPU performance from AMD's Ryzen. Furthermore, it has a solid webcam, an aspire touchpad, and a long-lasting battery. The only significant disadvantage of this laptop is only 128GB of internal storage, but it's not a big deal if you use cloud storage.
ASUS E410: A laptop with excellent battery life
Another budget class option, but this time, it didn't come at the expense of internal storage. Moreover, it has a great battery life, holding up well during the working day. It's also lightweight and portable, which is great for students, but you may find its touchpad rather annoying. Although this laptop is not the most durable, it may be a great choice for students needing an everyday laptop.
HP Victus 15: For education and gaming
This laptop is more expensive than previous devices, but, as for a gaming laptop, it's also a budget option. Its IntelCore CPU and NVIDIA GPU can handle heavy workloads, such as video editing and 3D animation, while a 1080p resolution display offers a high-quality image. It might not be as powerful as high-end gaming laptops, but students can use it for educational purposes and access cloud gaming services.
Apple MacBook Air 15in: Best Mac for students
This MacOS laptop is lightweight despite having more screen area. It's the most expensive laptop on the list, but it has various considerable advantages, such as superb battery life and great processor performance, which allows it to run even demanding apps. This laptop offers a wide range of free software, including iWork office apps, Garage Band, and gaming services, making the most recent MacBook Air a perfect fit for education and entertainment.
Lenovo IdeaPad Flex 3 Chromebook: A laptop with tablet capabilities
This Chromebook is among the cheapest you can find, yet it offers an excellent battery life, 2-in-1 touchscreen and tablet capability, and access to all the apps a student needs. If cloud gaming is what you look for in a laptop, avoid this model since performance isn't its strength, but if you need to access note-taking and collaborative apps like Office 365 and G-Suite, this laptop can be ideal for you.
I really hope that the information I provided here will help you find your ideal laptop for college. However, you know yourself, your needs, and your preferences better than anyone, so only you can choose the best laptop for yourself. Think about what you'll be using the laptop for and consider factors like performance, durability, operating system, and budget. Take your time to research and compare different options.
Remember, the best laptop for you is the one that aligns with your specific needs and enhances your college experience. Happy laptop hunting, and good luck on your college journey!