Today, I will talk about matters of the heart. I can't say that you necessarily need to be with someone to be happy, but I think it's really important to have a person with whom you feel good. According to recent research, many young people are lonely. If we are talking about the category of youngsters aged 18 to 29, the numbers are quite impressive: 63% of men and 34% of women. One of the ways that seems to me quite promising for finding a partner is dating platforms. So, I did a little research and collected all the necessary information for you about the best dating apps for college students. If you are interested, please read on.
The Best App to Meet People: There's Plenty to Choose From
Here we go. To pique your interest, I'll start with a list of cool websites and college dating apps to meet interesting people. In fact, there is a zillion of them, but some are particularly popular.
The application works on the principle of "quality over quantity." Based on your preferences, the best app to meet people offers a limited number of matchups, or "bagels," every day. Once you get them, you can either like or pass. If the liking between you and your would-be partner is mutual, you can start chatting.
Pricing: The basic version is free, and the premium version is from $30 to $120.
Platform: Available on both Android and iOS.
One of the greatest dating apps for college students, Happn, connects you with people you've run into in your daily life. It works by using your phone's location services to track your movements throughout the day. When you happen to cross paths with another Happn user, their profile appears on your timeline, and you can send them a "smiley face," for example. If the interest matches, you can start chatting.
Pricing: The basic version is free, and the premium version is from $33.99 to $159.99.
Platform: Available on both Android and iOS.
Searching for the best college dating apps? Plenty of Fish is one of the largest user bases in the dating app world. It offers users a comprehensive profile setup. They can include detailed information about their interests and the kind of people they are looking for. The platform relies on advanced algorithms to guarantee you perfect matches daily. POF also lets you message a would-be partner for free. The app is a treasure trove if you are interested in different types of relationships.
Pricing: The basic version is free, and the premium version is from $20.94 to $125.64.
Platform: Available on both Android and iOS.

The Best Dating Apps for College Students
Does student dating differ from that of, say, slightly older people? Obviously, yes. Young adults getting an education face specific problems when it comes to finding a soulmate. They have a lot of homework, which takes a whole bunch of their daily time, for example. That's why, IMHO, using special college dating apps that simplify and speed up the overall finding a partner process is extremely helpful. So, what are the best dating apps for college students? Let's take a look at a few options.
The best dating apps to use when you're a student
DateMySchool is the best dating app for college students. It allows you to connect with people from your campus or nearby universities. The app fosters building relationships within school communities. It offers a chat function and a search by college to find dates.
Pros

Cons

Free to use.

DateMySchool is free to download and use. Maybe this is a cost-friendly dating app for college students you're looking for.

Privacy.

The application connects learners from particular university campuses. And so, it offers a certain level of privacy to users.

Limited audience.

The specific matchmaking nature of the platform lessens the number of potential hits. It only connects you with fellow students from your campus or nearby areas.

Different popularity.

Depending on your school, the application's popularity may be quite different. This can make your overall chances of finding good matches lower.
Friendsy is one of the best dating apps for college students. It is even dubbed "Tinder for college students." This app is created exclusively for university people. So, if you ask yourself, "How to meet guys in college?" this can be your answer. It supports everything from casual dating to friendships to hook-ups, making it a one-stop platform for teenagers searching for different types of relationships. Friendsy's swiping and chat features foster a jovial online dating experience for university attendees.
Pros

Cons

Student-oriented features.

Matchmaking offered by Friendsy is geared specifically to students, helping them enrich their online dating experience in school.

Large user base.

As a popular matching tool among college people, the matching platform provides a large, diverse pool of possible hits.

In-app purchases.

The product is free to use. However, if you'd like to take advantage of the premium features, Friendsy expects you to pay.

Mixed user reviews.

User reviews of the platform vary. Some praise the application's social features, while others report recurring glitches.
The Most Successful Dating Apps
What are the most successful dating apps? This is a very interesting question. To answer it, it's worth taking into account many factors, such as the age group, sexual orientation, the number of positive reviews, and the frequency of downloads, to name just a few. Statistical agencies are the best in analyzing dating apps for college students.
The most popular dating apps by age
So, I looked for information on the Internet and decided to trust the Pew Research Center. According to their information, the most popular dating apps for college students among 18-29-year-olds are Tinder (42%), Bumble (27%), and Hinge (21%).
Tinder

started "connecting hearts" back in 2012. It was one of the first swipe-based online dating apps. Users create profiles with photos and short bios, and then swipe right to like someone or left to pass them by. It is famous for its "casual dating" approach, as well as its large user base. No less than 75 million people use the app every month.

B

umble is one of the greatest dating apps for relationships. This is a feature-rich love application known for its specific approach. Here, women are in control of the dating process. In addition to partner-finding, Bumble offers networking and friend-making modes, making it a multi-purpose platform for singles. The app is openly supportive of users of different orientations, which strongly adds to its popularity.

Hinge

positions itself as a useful means for meeting a partner to build a serious relationship. This makes it radically different compared to number one in the "hit parade of the best dating apps for college students" from the Pew Research Center. The unique feature of Hinge is to connect users through mutual friends or acquaintances. This creates a sense of comfort and security when meeting new people.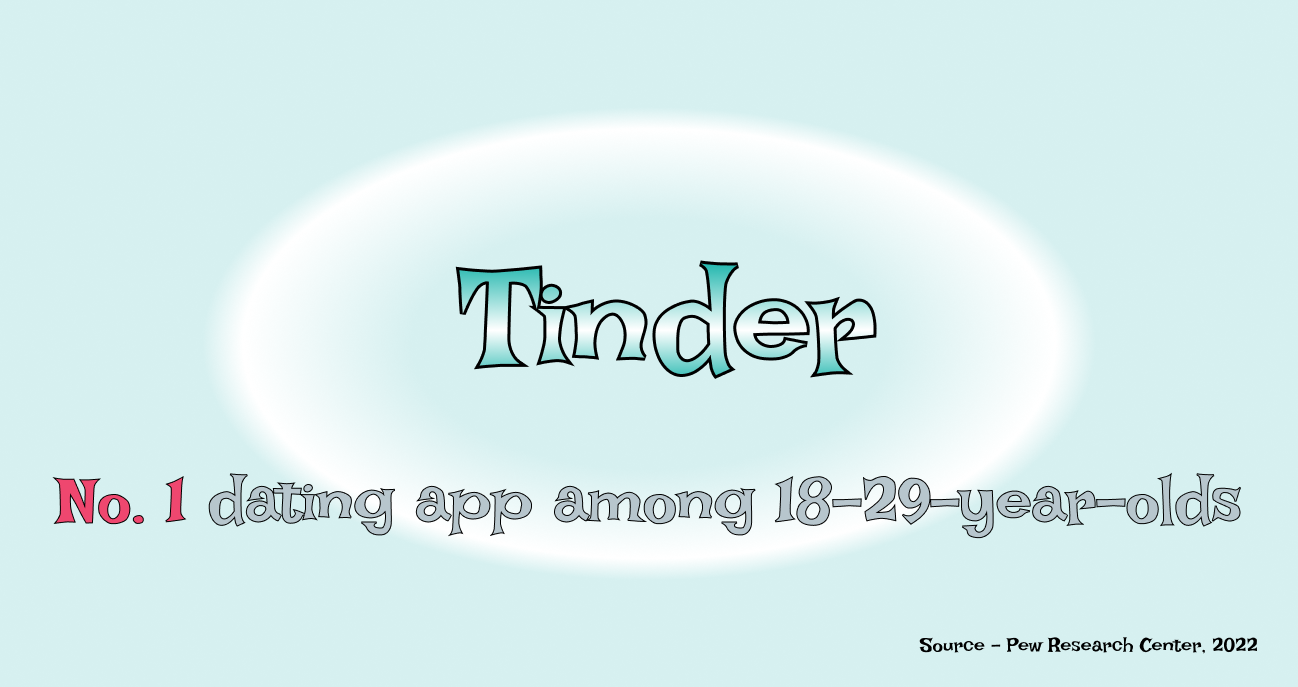 "What dating app is best for me?" – How to define
I urge you to take the choice of a dating app seriously. It's not an easy decision. After all, you are going to trust your personal information to another person selected for you by "advanced algorithms." First of all, ask yourself why you are looking for a partner. Is it for a casual hook-up or building a relationship? Do you like what you've found about this or that application on the Internet? Are you willing to pay for additional features, or would you prefer to use the basic functionality of the college dating app? Once you know the answers to these basic questions, I think your answer to "Which dating app is best for me?" question will be quite clear.
The Best App for Relationship: Is There One?
If you enter the query "best apps for relationships" in the search bar, Google will show you hundreds of articles with application selections. Each of them gives you a ton of information about various dating platforms and the most used dating sites. I did so, and the selection from the Top10.com platform seemed to me to be the most relevant.
So, according to them, the top 10 best dating sites include:
eHarmony

– the best dating site and app for college students ever

SilverSingles

– the best of the apps for older singles

EliteSingles

– the best for working adults

Match

– the best suited when looking for diverse relationships

BeNaughty

– especially good for hooking up

OurTime

– best website for unmarried people over 50

Zoosk

– the best to find a lasting commitment

BlackPeopleMeet

– the best of dating sites for singles of color

Jdate

– the best for single Jews

Dating.com

– the best for transcultural dating
As you can see, college dating apps are many and sundry, literally, for everyone. Whether you're looking for a fling, a casual hook-up, a long-term relationship, whatever your orientation or age, there's already a dating app for you. I'm currently trying my luck with one of the best dating apps for college students I mentioned earlier, and I am going on a date tonight! Wish me luck 🙂