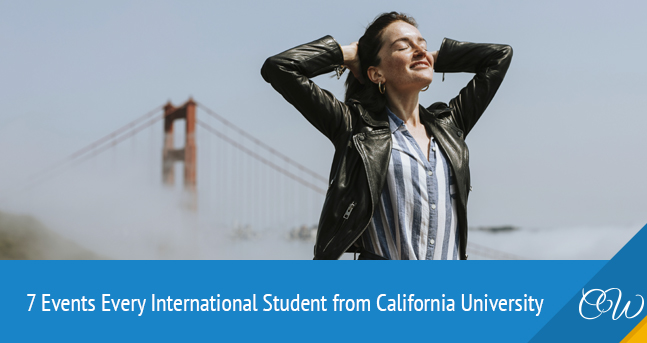 The life of students shouldn't be filled with studying only. This is a nice period of life when people are young and full of dreams. It's important to learn how to relax and receive pleasure from life. There may be different ways to reach that state of pleasure. Each has its own advantages. For example, one may visit a special event. This case is particularly important for international students.
Why is it so good to visit different events for students from other countries? Well, one of the common and really serious obstacles for any foreigner is to understand another culture. This issue is especially important when two cultures are completely different. Many people call such a difference 'the clash of cultures'. This creates certain problems. Under the condition, you do not understand the country, its people, and traditions, you're doomed to never get accepted.
Sightseeing is the common practice for foreigners. This activity helps to learn something about the country people visit. If you go to all kinds of cultural events, you learn much more and really get familiar with some special traditions. Thus, international students from California University are always welcome to different festivals, sporting events, outdoor activities, and so on.
What are those special cultural events one may visit and enjoy? All people have different preferences. Therefore, we have compiled various events, which are suitable for folks with different habits and desires.
The Riverside County Fair & Date Festival. This is a perfect event for all fruit lovers if you want to honor sticky and sweet fruits. A piece of Algeria is present in California because some palms were planted in the Coachella Valley almost a century ago. This provides all visitors with an outstanding opportunity to taste ripe, natural, and juicy fruits from Africa. In addition, you may enjoy classic rides, musical festivals, and different competitions.
The Majestic Yosemite Hotel. Winter is the time of wonders. So it's believed. If you desire the feeling of a miracle in winter, visit this captivating hotel. The exterior and interior will simply drive you crazy. However, the main reason to visit the place is the gathering of chefs who possess amazing cooking skills. Your belly will be full of the tastiest meals in the world.
Fashion Week El Paseo. Do you adore fashion? Then, you cannot miss an outstanding event in El Paseo. You don't need Paris, London or Milan. Everything is here for you in California! You'll enjoy the luxurious shopping district that holds this exhibition. The top designers of the world show their new beautiful collections. Don't miss the chance to follow the world trends. Moreover, you are welcome to visit iconic landmarks and areas of Palm Desert. Visiting wilderness, you gain experience you've never felt before.
Mount San Gorgonio. Do you like the mountains? Then you should visit this peak, which is the tallest in Southern California. It has picturesque scenery, which is really magnificent and beautiful. Pinewoods and nice lake are waiting for you. Moreover, you're welcome to visit a speedway in Fontana, which holds the famous NASCAR – the car racing. Jump in for the adrenaline!
BNP Paribas Open. If you're fond of sports and tennis, in particular, visit the Indian Wells Tennis Garden. This is not a simple championship or even friendly games of local players. This is one of the most prestigious world tennis tournaments. Do you doubt that? Simply check the list of names that play here. Amongst such is amazing and most titled Roger Federer! Besides, you may be lucky to see Djokovic, Nadal, sisters Williams, Sharapova, and many others of the top-rated tennis players for today. This is the great tournament one should never miss. It's worth mentioning that the tennis ground is very beautiful and comfortable. You may sit in a plushy restaurant, café, etc. and marvel at the beauty of the Santa Rosa Mountains. Besides, you are allowed to take some playing practice as well.
Events in Monterey and Carmel. Another great spot to visit is the Monterey Peninsula. It is surrounded by the Pacific from three directions. This is a place where a visitor can find art galleries, historical buildings, and monuments, lots of stores, restaurants, hotels, and something of the kind. This place is especially loved by families. You will find Carmel on the south side of this place. This is a town which unites history and novelty. You will be pleasantly impressed with the marvelous nature and architecture. This is a spot you should not omit.
U.C. Davis Picnic Day. What about having some picnic with fun? Visit U.C. Davis and receive extra pleasure and relaxation. This is a very important event, which attracts thousands of visitors annually. You are invited to taste whatever you wish at the picnic.
It is remarkable that this event is held on the territory of California University! Therefore, every international student who studies here would hardly miss the party. It's quite possible that you'll participate and contribute to the fun too. You'll have multiple opportunities. Amongst such are biking, arts and crafts tables, different exhibitions, and competitions. This is an excellent opportunity to feel the American identity and understand its culture much better.
The state of California is able to offer you a lot. This list is the great proof. Every year, millions of people visit this amazing state during the entire year, all four seasons long. If you're an international student at California University, you have a rare possibility to visit a great variety of events without any problems.
In addition, don't forget about the events, which are held by the University as well. Mind that these were only a few suggestions. Remember that there is much more to discover. California is glad to impress you with all kinds of fun, entertainment, and pure pleasure. Don't pass this outstanding chance up! Choose what you like, attend it, and enjoy the student life to the fullest!