Duty Free. These two words literally hypnotize me. I mean, who wouldn't want to save a couple of bucks? I have to admit that there was a time in my life when I couldn't pass by duty-free shops and food courts. I was weak, okay? For quite a long time, it never occurred to me that there could be some pitfalls and that not all products are actually sold at a lower price there. However, later, I got smarter and even made a list for myself, "The goods you should never buy at airports, Xiu." If you're interested, please fasten your seat belts and enjoy the flight!
Airport Duty-Free Shops: To Buy, or Not to
Buy at the Airport
?
One of the advantages of becoming an international student, in my opinion, is being able to travel. Of course, it can be hard and exhausting, but in most cases, I am enthusiastic about my trips. I have had the opportunity to use the services of several international airports. And I will tell you a little bit about their duty-free shops.
So, one of the first airports in America I visited were the Los Angeles International Airport (LAX) and the John F. Kennedy International Airport (JFK). Well, what can I say, the shops there are luxurious. All the usual assortment, such as alcohol, cosmetics, sweets, and tobacco products, is there. Moreover, there are also branded clothes, luxurious jewelry, and breathtaking souvenirs. (Yes, I said I'm weak, I can't pass by such stores without a second thought.)
At the LAX, duty-free shops are waiting for you in Terminal 2, and at the JFK, you have to head up to Terminal 8. As for the prices, I didn't notice any significant difference between the shops at the two airports. In my opinion, alcohol is the most expensive item to buy in both. I even have a funny story about this. I was flying home. Once again, I couldn't resist going into a store and saw the whiskey my father loved so much. I recognized the bottle. My happiness knew no bounds, I really wanted to give my dad a nice present. I traveled with a friend, and he insisted I first checked the cost online. As you might have guessed, I didn't buy the bottle. It was almost half the price in a local shop at home. As for the cheapest product, you can find a gift for your mom or girlfriend. Cosmetics and perfumes are quite reasonably priced here. My opinion.
Food Courts at the Airport: A Pricy Lunch, Sir?
Do your parents have a phobia of missing the plane? Because mine do. Whenever I come back for my studies to the US, we leave home almost half a day before my flight. Then I have to spend quite a long time at the airport. Although my mom packs sandwiches for me, sometimes I can't resist the pleasure of eating at food courts. Don't judge me, they beckon me with shining lights. I know almost everything about the food courts at the Chengdu Shuangliu International Airport.
If you want such American classics as a delicious cheeseburger or juicy wings, then McDonald's and KFC are located in Terminal 2. In addition to them, there are, of course, many other restaurants where you can have a delicious meal and pass the time before your flight.
Yes, I know what you're going to say. Eating in food courts is not rational, even expensive. You are right, I agree. I've learned the lesson, but I still allow myself this pleasure sometimes. You can not only eat there but also hear a good joke. For example, the last time I flew to Los Angeles, I saw a cool couple. The girl was trying her best to learn how to use chopsticks and grab a roll with them, but luck was not on her side. In the end, when her patience was exhausted, she picked up her fork and said, "I don't like it when my dinner gets away from me, the time of vengeance has come."
Things
You Should Never Buy
You may think that I am not the right person to give advice on what goods are best not to buy in duty-free stores because I often give in to the impulse and buy things there. However, even I have a number of rules.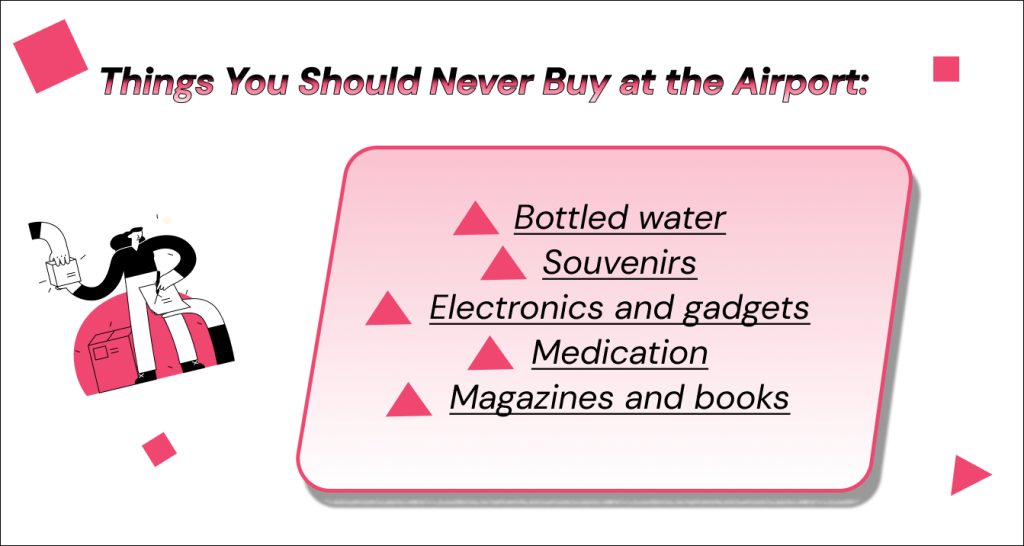 Bottled water.

It would seem that bottled water is such a mundane thing, it simply cannot be expensive. But it can.

Never buy

bottled

water at airports

. The markup on it can reach up to 200%. The best thing you can do is to have a refillable bottle on hand and fill it up after you pass security.

Souvenirs.

I once bought a New York mug at the JFK airport and then found the same one for half the price at a local shop. That was my first introduction to the pricing policy of airport shops. The truth is that it is better to buy a souvenir, no matter how good it is, in local stores.

Electronics and gadgets.

If you forgot your favorite headphones, charger, or power bank at home, I have some bad news for you. At the airport, you'll have to pay a pretty penny for them. The extra charge will make you feel like you're being robbed in broad daylight.

Medication.

Seasonal allergies plague many people, including me. When I was packing my suitcase, I forgot to put my allergy medication. When I discovered my mistake at the airport, I had to fork out twice the usual price for my medication at the nearest pharmacy.

Magazines and books.

If you're a fan of paper books and magazines, it's not a good idea to buy them at the airport. This is another item for which the markup can be quite high. It's best to take care of the book in advance and buy it near your home the day before your flight.
I love shopping at duty-free stores, it's my guilty pleasure. I try my best to keep myself in check and to go on a spending spree as little as possible. I hope you found my little article about what not to buy at the airport useful. And also, my stories will be educative for you. It's a bad thing to spend large sums while waiting for your flight. However, sometimes, it's not a crime to treat yourself. Be kind to yourself and save your money, you will need it!